Max |
2015.03.19

Max passed away last night after 15 years of being a very good boy.
2002.07.09

Some nice shots of Max taken at random times.
2001.11.01

We got Max on Tuesday, October 30th, 2001. He came from the Washington Humane Society. They think he is about one year old. They also said they thought he was half beagle, half basset hound - the basset is definitely there, but we think he might be more retriever than beagle.
This is Max's picture from when he was at WHS.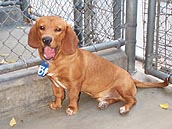 Here are some pictures of Max in our house.
and some "action" shots of him outside...
Thumbnails created with IrfanView. Click on thumbnail to see larger version.
© 2001-2020 kevan.emmott.com. test
Max loves good hosting. TextDrive, Digital Ocean, and Netlify have all hosted his stuff.